Buffett to Perform at Aspen Labor Day Festival
August 11th, 2021
---
Jimmy Buffett and the Coral Reefer Band will replace Stevie Nicks as the closing act of the 2021 Jazz Aspen Snowmass Labor Day Experience.


From the Aspen Times:

The announcement comes one day after Nicks, citing concerns about rising coronavirus cases, canceled of all her scheduled concerts including a headlining performance at the Labor Day festival.


"These are challenging times with challenging decisions that have to be made," Nicks wrote in a statement released Tuesday afternoon on social media. "I want everyone to be safe and healthy and the rising Covid cases should be of concern to all of us.


Buffett, 74, has performed regularly in the Aspen area as far back as the 1970s in local bars, clubs and festivals and recorded at Mad Dog Studios in Old Snowmass, but has never before played a Jazz Aspen event. The "Margaritaville" singer most recently gave a virtual performance for the Aspen High School graduating class of 2020 during the stay-home period early in the pandemic.


Read the full story.



Get more information about the festival here.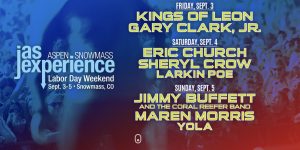 ---
Tagged in
Tour Dates